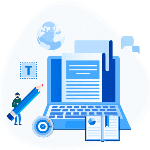 The process of completing your capstone is challenging yet rewarding. It represents the conclusion of your academic studies, a testament to your knowledge, dedication, and research skills. Whether you are on the verge of submitting your thesis, wrapping up your dissertation, or putting the finishing touches on a critical research paper, the importance of presenting your work in the best possible light is key. This is where our services step in, offering you a lifeline to excellence. We understand the unique demands and pressures that accompany the creation of a capstone. It is not merely about collecting data and compiling it into a document; it is about crafting a piece of work that reflects your intellectual prowess and dedication to your chosen field. We recognize that the final stages of any academic journey can be the most demanding, where even the most diligent students can overlook errors or struggle to present their ideas with the clarity and precision that their work deserves. As experts who edit capstones, we are not just editors; we are your partners in achieving academic success. With a wealth of experience and a passion for academic excellence, our editors are dedicated to elevating your project to its fullest potential. We will look into the manifold benefits of seeking assistance from our skilled experts. From enhancing clarity and coherence to ensuring accurate grammar and citations, our help is designed to address the unique challenges that capstone projects present. We go beyond simple corrections; we provide you with customized feedback and suggestions to help you grow as a writer and researcher. We understand that the clock is ticking, and deadlines are looming. Our commitment to timeliness is tenacious as our editors work diligently to ensure your document is not only perfected but also ready for review by your professors or advisors well before the due date, alleviating unnecessary stress and allowing you to focus on the content of your work. Your capstone project is treated with the utmost discretion as our secure systems ensure that your document remains private and protected. The field of academics is highly competitive, and the quality of your project can be a defining factor in your academic and professional future. With our editing assistance, you can be confident that your capstone will shine brightly, leaving a lasting impression on your professors, peers, and potential employers. Choose to elevate your work, choose to excel, and choose to partner with the competence and reliability of our experts.
What are the benefits of getting help from our skilled capstone paper editors?
Enhanced Clarity and Coherence

: Our editors possess a keen eye for detail and an innate ability to enhance the clarity and coherence of your capstone as they meticulously review your work, ensuring that ideas flow seamlessly from one point to the next and that your arguments are presented in a logical and organized manner. This ensures that your readers can easily follow your thought process.

Improved Grammar and Syntax

: One of the most common stumbling blocks in academic writing is grammatical errors and awkward sentence structures and our capstone editing service, filled with experts who are well-versed in the details of the English language, can rectify grammar and syntax issues that might otherwise detract from the quality of your work to make it more concise and polished, leaving a lasting impression on your audience.

Accurate Referencing and Citations

: Our experts are informed on various citation styles, including APA, MLA, Chicago, and more hence they ensure that your capstone project adheres to the specific guidelines of your institution, eliminating the risk of plagiarism and upholding the highest standards of academic integrity.

Tailored Feedback and Suggestions

: We go beyond mere corrections and provide you with tailored feedback and suggestions to help you grow as a writer and researcher offering insights into how you can strengthen your arguments, develop your ideas, and refine your writing style, empowering you to produce higher-quality work in the future.

Meeting Submission Deadlines

: Our experts understand the importance of timely submissions and work diligently to ensure your document is ready for review by your professors or advisors well before the due date, alleviating unnecessary stress.

Customized Editing Services

: Every capstone is unique, and so are your editing needs thus our services are tailored to cater to the specific requirements of your document. Whether you need light proofreading or in-depth editing, our experts can customize their approach to ensure your work is perfected to your satisfaction.

Global Perspective

: Our team of editors comes from diverse academic backgrounds and regions, offering a global perspective on your work which can be invaluable in broadening the horizons of your capstone, making it more appealing to a wider audience.
Our experts stand as a symbol of excellence in the area of academic assistance. We understand the immense effort and dedication that goes into crafting capstones, and we are here to complement your hard work with the expertise of our competent editors. The benefits of seeking our paper editing assistance are manifold, ranging from improved clarity, grammar, and referencing to timely submissions and customized services. Our commitment to confidentiality and the global perspective our editors bring to the table further reinforce the value we offer to students and researchers worldwide. Our team of adept editors is ready to partner with you, ensuring that your work shines and that you emerge as a more adept capstone writer and researcher. Your academic success is our utmost priority, and we invite you to reach out to us today to experience the transformative capability of our editing assistance.
Looking for the Best Experts for Editing Capstones? Let's Help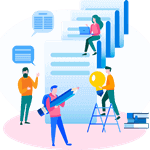 A capstone project is a significant milestone in any academic search and it represents the years of rigorous study, research, and dedication, serving as a testament to your expertise and knowledge in your chosen field. Even the most brilliant ideas and well-researched content can benefit from the keen eye and expert touch of our editors. When you're on the search for the experts to edit your capstone, you're seeking more than just grammatical correction; you're looking for individuals who can refine your work to perfection, ensuring it shines with academic brilliance. Let us dive deep into the ideology of capstone project editing, exploring the vital skills and qualifications that set our team of experts apart as the top choice for this critical task. We understand that your capstone is not just a document; it's a reflection of your academic journey, your dedication, and your aspirations. That's why we've assembled a team of professionals who excel not only in their editing prowess but also in their commitment to helping you succeed. Your capstone should be a masterpiece, a consummation of your academic achievements that leaves a lasting impression on your instructors, peers, and the academic community at large. Achieving this level of excellence requires more than just proofreading; it demands a comprehensive approach that encompasses clarity enhancement, adherence to strict academic standards, and meticulous attention to detail. Our experts bring a wealth of experience to the table, honed over years of working with students across various fields of study. They possess subject matter expertise, ensuring that they not only correct errors but also understand the details of your research. We are well-versed in the specific requirements of capstones, from formatting guidelines to ethical editing practices. Our team excels in fostering clear communication, allowing you to actively engage in the editing process, share your concerns, and work collaboratively in editing and refining a capstone project. During this critical phase of your academic study, entrusting your capstone to our team of experts will be a decision that pays dividends in the form of a polished, refined, and outstanding piece of work that truly represents your scholarly achievements.
The skills and qualifications that make our experts the best to handle your work;
Advanced Editing Skills

: Our experts have a wealth of experience in polishing academic documents as they possess an eagle eye for detail, ensuring that your capstone is free from grammatical errors, spelling mistakes, and punctuation mishaps.

Subject Matter Expertise

: Our team includes editors who are well-versed in various fields of study which means that regardless of your area of specialization, we have an expert who understands the intricacies of your research.

Familiarity with Capstone Requirements

: Capstone projects often come with specific formatting and citation guidelines and our experts are well-acquainted with these requirements, ensuring that your capstone complies with your institution's guidelines.

In-Depth Research Skills

: We can fact-check your references, suggest additional sources to strengthen your arguments, and ensure that your capstone is grounded in a solid foundation of academic research.

Critical Analysis

: Beyond grammar and formatting, our experts provide critical feedback on your capstone. where they offer suggestions to improve the overall quality of your work, making it more compelling and persuasive.

Ethical Editing

: As the best experts for editing capstones, we are well-versed in ethical editing practices, ensuring that we never cross the line between editing and authorship.

Adherence to Style Guides

: Different academic disciplines often require compliance with specific style guides, such as APA, MLA, Chicago, or Harvard. We are well-versed in these style guides and can meticulously apply the required formatting and citation rules, guaranteeing that your capstone meets the highest scholarly standards.
What is the cost of hiring an expert to edit a capstone for you?
The price of editing services can vary widely depending on several factors, including the length and complexity of your capstone, the level of editing required, and the deadline. We'll provide you with some insights into the cost structure without following a structured point-by-point format. The cost of editing a capstone typically falls within a range. Basic proofreading, which focuses on correcting spelling, grammar, and punctuation errors, is generally more affordable than comprehensive editing, which involves in-depth revisions for clarity, coherence, and overall quality. For a basic proofreading service, you can expect to pay anywhere from £4 to £13 per page. Keep in mind that page length is usually calculated based on a standard format (e.g., double-spaced, 12-point font), so the actual cost may vary if your capstone deviates from these norms. If your capstone requires more extensive editing, such as structural improvements, content reorganization, or in-depth feedback, the cost can range from £13 to £25 per page. This higher cost reflects the additional time and expertise needed for comprehensive editing. Urgent editing services, with a quick turnaround time, often come at a premium. If you have a tight deadline and need your capstone edited within a short timeframe, you may need to pay an extra fee, which can range from 20% to 50% or more of the base editing cost. It's important to note that these cost estimates are general guidelines and can vary depending on the editing service provider and the specific requirements of your capstone. Some editing companies, like Petrian Editing Service, offer package deals or discounts for long documents, frequent clients, or advanced bookings, so it's worth exploring these options to potentially reduce your editing costs. Keep in mind that the quality of editing services can vary among providers. While it may be tempting to opt for the lowest-priced service, it's essential to prioritize the expertise and reputation of the editors. After all, the goal of editing is not just to correct errors but also to enhance the overall quality and impact of your capstone project.
When you embark on the journey of editing your capstone project, it's imperative to entrust this critical task to experts who possess the right skills and qualifications. Our team of editors stands out as the ideal choice for various reasons. They not only wield advanced capstone project reviewing skills but also exhibit a profound understanding of various subject matters, ensuring that your project resonates with academic brilliance. The ability to navigate the complexities of capstone requirements, coupled with their talent for enhancing clarity and providing constructive feedback, makes our experts invaluable partners in your academic success. Our relentless commitment to meeting deadlines while upholding ethical editing practices sets us apart in the field of academic editing. Our experts excel in research acumen and can expertly adhere to specific style guides, tailoring their approach to suit your unique needs. By choosing our team of experts, you are not merely investing in editing services but also in the elevation of your capstone project to the highest standards of excellence. Your academic journey deserves nothing less than the best, and our experts are here to help you achieve just that.