As a graduate student, you have tenaciously conducted research, gathered data, and formulated your arguments, all with the aim of contributing to the body of knowledge in your chosen field. Even the most brilliant minds can benefit from a discerning and experienced eye to refine their work. This is where our editors come into play. We understand the pivotal role that an editor plays in transforming your dissertation from a rough draft into a polished masterpiece. Our seasoned editors possess a unique blend of skills that make them the ideal partners on your academic journey. Below, there is a discussion on these skills, exploring how they can elevate the quality of your dissertation and propel you toward academic success. As experts who edit dissertations, we are not mere grammar enthusiasts or proofreaders. We are multidimensional experts who bring a wealth of knowledge, experience, and acumen to the table. With our expertise, we explore the complex ideology of academic conventions, ensuring that your dissertation not only meets the stringent requirements of your institution but also stands as a testament to your intellectual prowess. In a world where deadlines loom large and expectations run high, our editors shine as guides to dissertation proficiency and professionalism. They possess the ability to discern the subtle details of language, the details of argumentation, and the requirements of your specific field of study. With a determined dedication to excellence, they work tirelessly to enhance the clarity, coherence, and credibility of your work. See the skills that set our dissertation reviewers apart as the best choice for students. From subject matter expertise to time management, from critical analysis to effective communication, these editors bring a comprehensive procedure to bear on your dissertation, ensuring that it not only meets but exceeds your expectations. Whether you are struggling with the hardships of academic writing or seeking guidance on refining your dissertation, our editors are your trusted companions on the road to academic achievement.
What skills make our dissertation research editors the best choice for students?
Subject Matter Expertise

- Our editors possess extensive knowledge in various academic fields, ensuring that your dissertation is edited by someone who understands your subject matter inside and out which allows them to identify inaccuracies and suggest improvements in your research.

Academic Writing and Editing Proficiency

- Crafting a dissertation requires a unique style of academic writing hence our professional dissertation editors are well-versed in academic conventions, ensuring that your paper adheres to the appropriate formatting, citation, and referencing styles (APA, MLA, Chicago, etc.).

Language Mastery

- To convey complex ideas clearly, a strong command of the English language is crucial. As editors, we are proficient in grammar, syntax, and vocabulary, guaranteeing that your dissertation reads fluently and professionally.

Attention to Detail

- A dissertation is a meticulously structured document hence our editors, renowned for their sharp attention to detail, ensure that your paper is free from typos, grammatical errors, and inconsistencies.

Critical Analysis

- Your dissertation must stand up to rigorous scrutiny hence the need to employ critical thinking skills to assess the strength of your arguments, helping you refine your research and bolster your academic claims.

Time Management

- Deadlines are non-negotiable in academia which is why our project editors manage their time efficiently, ensuring that your work is edited and returned to you promptly.

Effective Communication

- We understand that your dissertation is a deeply personal project thus our editors engage in open and transparent communication, providing constructive feedback and addressing your concerns to facilitate a collaborative editing process.
When it comes to crafting a stellar dissertation, enlisting the assistance of professional editors for s dissertation is a decision that can make all the difference in your academic studies. With their extensive subject matter expertise, proficiency in academic writing, language mastery, and unwavering attention to detail, our team of experienced editors is committed to helping you reach your full potential. Our editors go beyond mere proofreading; they are your partners in refining your research, strengthening your arguments, and ensuring that your dissertation is a well-structured, coherent, and polished work of academic excellence. Their dedication to time management and open communication ensures that your deadlines are met, and your concerns are addressed promptly. By choosing our dissertation study editors, you're not just investing in a service; you're investing in your future. You're investing in the confidence to present your research with pride, knowing it has been refined to the highest standard. Take that crucial step toward academic success and let our experts guide you on your path to success.
Need Experts who Offer Dissertation Editing Help? Consult Us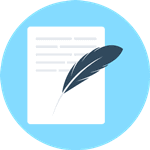 Dissertation writing is an academic undertaking filled with extensive research, critical analysis, and countless hours of writing. It's a journey that demands relentless commitment, intellectual rigor, and a keen eye for detail. As you approach the culmination of this scholarly study, your dissertation draft stands as a testament to your dedication and expertise. The final step of this onerous expedition is of critical importance: editing. The process of project editing is where your raw intellectual ideas are meticulously cut and polished into sparkling presentations of academic excellence. It's the stage where your ideas are refined, your arguments sharpened, and your study transformed into a symphony of clarity and coherence. Editing is not merely about fixing typos or ensuring proper grammar; it's about elevating your work to the highest standards of academic achievement. This is where our team of seasoned experts enters the picture, ready to guide you through the transformative process of editing your dissertation. Our mission is clear: to empower you to present a dissertation that not only meets the stringent demands of academia but also stands as a testament to your dedication to your field of study. Our experts are here to explain further the art and science of dissertation paper editing. Explore what you should expect when seeking our editing assistance, from perfecting grammar and syntax to enhancing the overall coherence and persuasiveness of your work. We will address the critical question of cost, providing insights into the factors that influence pricing and how to make this invaluable service affordable for every aspiring scholar. We understand that your dissertation is more than just a document; it's a manifestation of your intellectual journey and a foundation for your academic and professional future. We take immense pride in our role as guardians of academic excellence, and our team of experts is poised to make your dissertation shine brighter than ever before. If you're ready to unleash your dissertation's full potential and ensure that your scholarly contributions are presented with the utmost precision and impact, let our experts guide you.
What to ensure when seeking our editing help for your dissertation;
Correct Grammar and Syntax

: The foundation of effective communication in academic writing is impeccable grammar and syntax and we meticulously comb through your dissertation to ensure that every sentence adheres to the highest grammatical standards which include proper sentence structure, subject-verb agreement, and consistent use of tense.

Content Clarity and Coherence

: Your dissertation should tell a clear and compelling story. We work to ensure that each chapter flows seamlessly into the next, creating a coherent narrative that keeps your readers engaged as well as polishing your sentences and paragraphs to enhance clarity and readability.

Structural Consistency

: Consistency in style, tone, and formatting is vital for a great dissertation hence we meticulously check for flow of the citation styles (APA, MLA, Chicago, etc.), formatting, headings, and other elements to ensure that your document adheres to your institution's guidelines.

Proper Academic Tone

: Our editors ensure that your dissertation maintains a formal and scholarly tone throughout, enhancing its credibility and professionalism.

Correct Citation and Referencing

: Accurate sources are non-negotiable in academia hence our experts, well-versed in various citation styles, meticulously cross-check your citations with your reference list to ensure accuracy.

Transparency in Argumentation

: The heart of your dissertation lies in its content. We focus on ensuring that your arguments are well-articulated, logically presented, and supported by relevant evidence. With dissertation editing help, you can avoid jargon and overly complex language, making your work more accessible to a broader audience.

Accurate Plagiarism Check

: As experts, we employ sophisticated plagiarism detection tools to ensure that your work is entirely original and does not inadvertently include unattributed content.
What is the cost of hiring our experts to help with editing a dissertation?
When it comes to the cost of hiring our editing experts, we believe in transparency and affordability. Our pricing structure is designed to provide you with the best value for your investment in your academic future. Our fees are calculated based on several factors, including the length of your dissertation, the complexity of the subject matter, and the level of editing required. However, we understand that every student's budget is unique, and we strive to accommodate your financial needs. Our pricing begins at a competitive base rate per page, making our services accessible to students at all academic levels which covers essential editing tasks such as grammar, spelling, and punctuation correction. For more comprehensive editing, which includes structural improvements, content enhancement, and in-depth revisions, additional charges may apply. These charges are clearly communicated to you before we begin the editing process, ensuring full transparency. If you have a tight deadline, we can expedite the editing process for an additional fee. Contrarily, if you plan well in advance, you can take advantage of our standard turnaround times, which offer greater affordability. We understand that revisions and feedback are a crucial part of the editing process. Our pricing includes the opportunity for you to receive feedback and request revisions at no additional cost. We are committed to ensuring that your dissertation is polished to perfection and aligns with your academic goals. In addition to our competitive pricing, we also offer various discounts and promotions throughout the year, allowing you to save even more on our editing services. Our goal is to make high-quality editing for dissertations accessible to every student, regardless of their financial situation.
Your dissertation is the consummation of years of hard work, research, and dedication. It represents a significant milestone in your academic journey and holds the potential to make a lasting impact in your field of study. To ensure that your dissertation reaches its full potential, it is imperative that you invest in proficient research editing assistance. Our team of experts is here to provide the critical support you need. We offer a comprehensive range of editing services to refine your dissertation, ensuring it meets the highest standards of clarity, coherence, and academic excellence. From grammar and syntax to citation and referencing, we leave no stone unturned in perfecting your work. While the cost of our services may vary based on the specific requirements of your dissertation, it is essential to view it as an investment in your academic and professional future. A well-edited dissertation not only impresses your professors but also enhances your chances of contributing meaningfully to your field. When you find yourself at the editing stage of your dissertation, remember that you don't have to go it alone. Consult our team of experts, and let us help you transform your hard work into a polished masterpiece that will stand the test of time. Your success is our success, and we are committed to helping you achieve the best possible outcome.