Why you Must Proofread your Research Project Professionally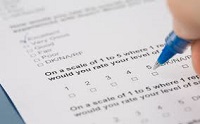 A thesis needs extensive research to be done, whereby data needs to be collected through the right channels. You may need to edit your instruments for thesis data collection, given that meaningful conclusions can only be guaranteed by data that has primarily been collected using proper tools. Researchers use several methods to collect data from the respondents. The most commonly used instruments of collecting data include questionnaires, observation, interviews, focus groups, and document analysis. Most of the data collection methods require the designing and administration of questions to the respondents. These questions must be reader-friendly to ensure that respondents answer the questions with openness and clarity. If you are unable to proofread your research data collection instruments, you don't have to worry. Our editors provide satisfactory and instant help with reviewing research data collection tools to clients who contact our company for assistance. Do you need to hire a professional research data collection tools editor? Consider consulting our firm today, and we will respond immediately.
To administer the right questions to the respondents
To collect information that is relevant to the study
To collect data that is useful in decision making
To remove irrelevant questions that can discourage respondents
Urgent Help to Edit a Thesis Data Collection Instruments
When you collect the right information from the respondents, the results of your data can be relied upon in the decision-making process. That means the methods used to gather the research data must be accurate. Editing your research data collection instruments is necessary before you commence the research. Working with us is highly beneficial; therefore, you should give us the chance to provide you with professional and reliable editing services. Our skilled editors will value and wisely utilize every minute and coin you invest with us.
Our experts offer the best guidelines to help you in editing thesis data collection tools: The words used in the data collecting instruments should be clear to the respondents. Readers always understand correct and accurate questions. Therefore, researchers should edit their research data collection instruments to improve their chances of obtaining correct data. Contact us for the best ways to help you edit thesis data collecting instruments, and we will urgently satisfy your needs.
We offer reliable and urgent thesis data collection instruments editing services: Considering that no one is perfect, you must go through your data collection instruments to check their accuracy. You must spare time and read your data collection methods to correct errors that can compromise the quality of your results. If you lack enough time to edit your research instruments, notify experts at Petrian Editing Service, and they will help you deliver your project work before the deadline.
Our research data collection methods editors are reasonably paid for quality work: Many researchers make a disastrous mistake by failing to edit their data collection instruments. As a result, they end up collecting information that cannot be relied on in the decision-making process. Are you struggling with editing your thesis data collection instruments? Pay a thesis data collection methods editor from our firm today for an excellent grade.
Benefits of Correcting Mistakes in a Research Data Gathering Tool
The professionalism of a thesis is determined by how readable and relevant it is, but all these cannot happen without suitable data. Data is an integral part of a thesis, which should not just appear but be keenly gathered. Collecting thesis data is not an easy task, seeing that you have to come up with sufficient, quality, and relevant information. Various instruments are used to gather information, which needs to be in perfect shape if you intend to collect the information that can be termed as professional and suitable for use. Many are the times that students have had the best data sources at hand, but they still obtain inferior quality data due to the use of data collection tools that have not met the required standards. Should you be unsure about the credibility of your data collection instruments, consider looking for expert editors. These are experts who have a professional understanding of how data collection tools should be and whether they are fit for use. Whether you are using data collection methods such as observation, questionnaires, focus groups or interviews, your data collection instruments and techniques may require designing. You need to administer the questions to the respondents, which need to be very friendly for transparency and sincerity. To facilitate this, you may need quality help with rewriting your data collection methods, from experts that can be trusted.
Right data collection tools can gather the required data for a thesis
Reliable data gathering instruments can collect enough data for your thesis
With the right data gathering tools, the process is easy and time-saving
Obtain an Error-Free Research Data Collection Tool Here!

If there is something you must never forget is that meaningful conclusion can only be guaranteed by data collected professionally and with a lot of keenness. Being keen on every detail is not always easy, especially when you've figured out the kind of task ahead of you against the limited time provided. Inquiring for the best tips while correcting a research data collection tool is a top-notch idea, considering that this will help you avoid asking the wrong questions, including irrelevant questions that may upset the respondents & collecting information that's not useful to your study among other shortcomings. Avoiding assumptions and seeking help comes as a great advantage, which guarantees coherence and professionalism in data collection and the task as a whole. You need not worry where and how to obtain the first-class data collection instruments editing services, while our firm is, but a mouse clicks away. We know that quality is what you seek, which we guarantee at a rate that won't be overwhelming financially. Additionally, we provide assistance that suits your demands within the stipulated time. When the best is what you seek, we are your best choice. We are your very reliable help provider, a group of professional editors who have always been available on demand. Our experts are solely trained to provide you with the best editing services to ensure that your thesis data collection instruments are in good shape. It is after working with us that your tools can be assured of the following abilities. When you've decided to look for editing expertise for your thesis data collection tools, we are a professional team of experts you can trust.